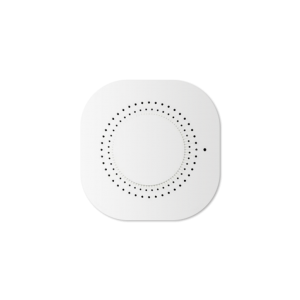 Overview:
The gas detector also called gas leak sensor, it can detect a natural gas leak by detecting the CO and CH4 (Carbon monoxide and Methane), will not only send a warning to the app but also have the warning siren and flash warning light on the product, if work with our valve and valve controller, it can also close the gas valve when detecting the gas leak. This product can work with or without the host. Without the host, it will connect to Wi-Fi, with the host, it can communicate with the host in GFSK. Easily adapt to all kinds of project situations.
Parametrs:
Specification: 85 mm * 85 mm * 30 mm
Networking: 2.4GHz Wi-Fi
Signal: 433MHz (GFSK) when working with the host.
Compatible cellphone system: Android 6/IOS 8.0 or above
Appearance material: PC
Power supply voltage: DC 5V/1A Power supply with the USB and power adapter included in the box
Controllable distance: Wi-Fi
coverage GFSK distance: 12 to 25 meters
Applicable gas: CO, CH4
Alarm mode: sound and light siren and app alarm Alarm
volume: 80dB
Preheating time: 180s
Installation: Plug and play
Operating temperature: 0° to 50° C
Relative humidity: 10% to 90% noncondensing